Some people just have strict daily routine. I know this, I have friends who are. They always go to the same bakery to get the same pastry; they remember to put everything to its original places. I am not one of them. I usually take risks, especially about food and drink. So when I come up with a really fantastic way of drinking tea, it's cause for much celebration and publication on the Internet.
I just bought a big pack of hot chocolate, a box of Vanilla sleep-time herbal tea( I am a vanilla-smell savvy. This milky and sweet smell makes me addicted.) and a bottle of skim milk from the grocery.
I didn't want to mix them up when I got them. However, several things made me try this crazy mixture.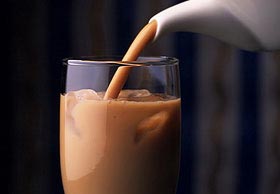 First, I found that the paper container of my milk is disposable. There is no lid to cover the container after I opened it.
I am so into vanilla smell and hot chocolate. It is pathetic that there is no vanilla smell-hot chocolate.
In such a scenario, I decided to mix them up. What I can get from this crazy behavior are: first, I can use up my milk as soon as possible; second, I can make my unique hot chocolate with the fresh and mint flavor from my herbal tea.
So let's start. I have a Keurig coffee brewer. Basically, I use it to brew both coffee and tea. I put the tea bag into it. Just less than two minutes, the sweet vanilla and fresh mint smell infused my whole kitchen. Then I gradually stir hot tea into the hot chocolate. The last step was adding milk into them.
With wonderful smell from tea, silk,sweet but not saccharine taste from hot chocolate and creamy feeling from milk, my vanilla chocolate milk tea is my strict daily routine now.
Save