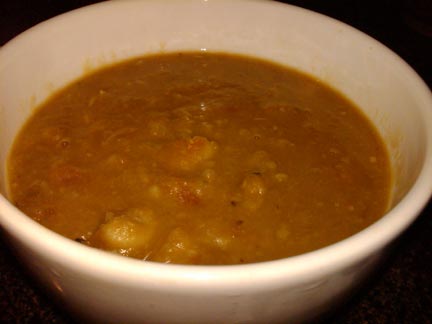 Ingredients: Serves 6
1 pound dried black beans, rinsed
12 cups water, divided
2 medium yellow onions, divided
8 garlic cloves, divided
1/2 teaspoon dried marjoram, plus more for garnish
1/2 teaspoon dried oregano
1/4 cup loose-leaf Lapsang Souchong tea leaves
2 tablespoons olive oil
4 tomatoes, peeled, seeded, and chopped in 1/4 inch pieces
1/2 teaspoon fine sea salt
Crumbled fresh goat cheese (optional)
1 jalapeno, membranes and seeds removed and thinly sliced (optional) for garnish
Directions:
Place the bean in a large pot and cover with at least 4 inches of tap water. Soak at least 6 hours or overnight. Drain and rinse the beans, return them to the pot, and add 9 cups of water. Cut 1 of the onions in half and add both halves, along with 5 of the garlic cloves, marjoram, and oregano. Bring to a boil and immediately reduce to a simmer. Partially cover and let simmer until the beans are tender, 2.5 to 3 hours. Add more water during cooking if the water level gets low.
Bring the remaining 3 cups of water to a boil. Put the tea leaves in a medium bowl or measuring cup; pour boiling water over the tea leaves and steep, covered, for 6 minutes. Strain, discarding the leaves.
When the beans are tender, remove from heat. Transfer half the beans, along with the cooked onion and garlic, to a blender or food processor. Add the steeped tea and puree, in batches if necessary. Return the pureed mixture to the remaining cooked beans.
In a large skillet, heat the oil. Chop the remaining onion and mince the remaining 3 garlic cloves and add to the skillet, along with the tomatoes. Saute for 5 minutes, until the onion begins to soften. Add to the soup mixture and season with salt to taste. Stir to distribute the seasonings.
Serve warm, garnished with crumbled goat cheese, a few thin slices of jalapeno, if using, and a sprinkle of marjoram.
Impression:
Eager to try this recipe sooner than later, I went to my local ethnic grocery store which did not have black beans! As I was not going to be dissuaded, I decided to prepare this recipe with white beans instead. It turned out to be a light yet hearty soup. It is very healthy, low in calories and tastes like you are enjoying it right by a campfire as the Lapsang Souchong's smoky quality gives its wholesome flavor and aroma. The addition of tomatoes adds color and complements the beans. I couldn't believe my spice rack had an unopened bottle of marjoram, I still don't know what this herb is, but it fits perfectly with the soup, almost a necessary ingredient. Unfortunately I didn't have goat cheese, which is my favorite, so I used grated parmesan as the optional topping and it worked just great. The jalapeno bits are a must. It is a completely different soup without them. I have never pureed a portion of a soup and kept the rest intact as this recipe dictates. I am glad to have picked up this new tip and add it to my cooking repertoire.We had seconds the next day and it tasted even better. My husband and I both agreed this soup must be repeated.
Save
Save