Ingredients: Serves 8
1/2 cup Earl Grey Simple Syrup or other tea infused simple syr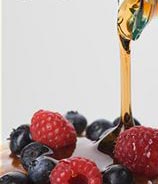 up
6 cups mixed fresh fruit cut into cubes or rounds
Mint sprigs for garnish
Directions:
If you want slightly softer fruit, heat the syrup, then pour it over the fruit in a large bowl and chill. For fresh, crisp fruit, use cool syrup. Toss it with the fruit, garnish with frest mint sprigs, and serve.
Earl Grey Simple Syrup
Ingredients:
2.5 cups boiling water
1/4 cup loose-leaf Earl Grey tea leaves
2 cups granulated sugar
1 vanilla bean, split in half lengthwise
1 teaspoon dried lavender
Grated zest of 1 orange
Grated zest of 1 lime
Impression:
I love fruit as much as I love tea. Discovering this recipe from the book, Culinary Tea, was an absolutely blissful moment for me. Making the simple syrup was just that: simple. I didn't have plain Earl Grey tea, nor did I have a vanilla bean, even though dried lavender is ornated around my house. But what I did have is our Vanilla Creme Earl Grey which does contain vanilla and lavender, so this was perfect in making the syrup without deviating from the recipe at all! The zested orange and limes were a pleasantly refreshing touch. I used blueberries and raspberries and boy was I in heaven from the first bite. This is a perfect snack to have while you watch either the sunrise or the sunset. I even had enough left over the next day to drizzle in a cup of greek plain yogurt and that too... was scrumptious.
Save