Here is my second attempt for a main course from the book Culinary Tea which introduces innovative styles of cooking with tea.
Ingredients: Serves 6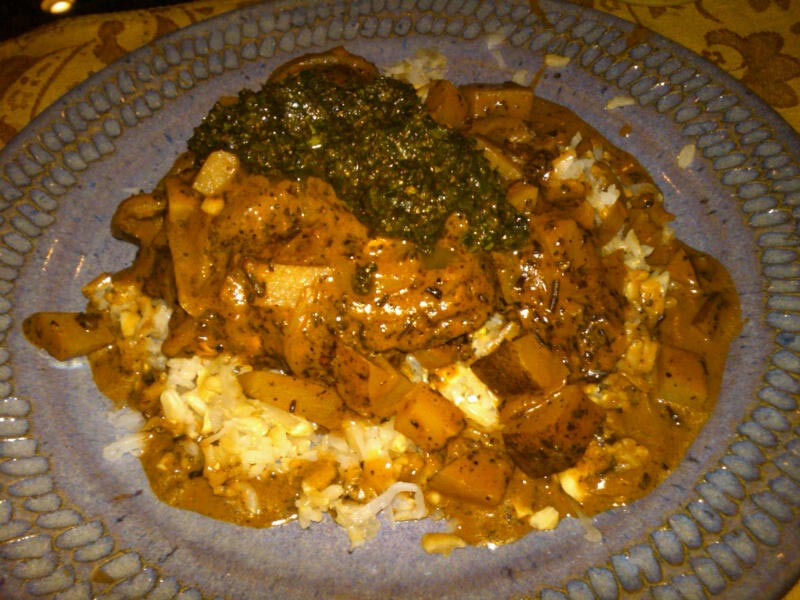 Curry Tea Spice
10 tablespoons loose-leaf Darjeeling tea leaves
1 tablespoon turmeric
1 teaspoon ground ginger
4 teaspoons paprika
4 teaspoons ground coriander
1 teaspoon freshly ground black pepper
Cilantro Oil
1/4 cup chopped fresh cilantro leaves
2 tablespoons chopped fresh basil leaves
1/3 cup canola oil
Coconut Rice
2 tablespoons olive oil
1 medium onion, chopped
2 cups brown rice
4 cups water
1 cup chopped unsalted roasted cashews
2 cups sweetened shredded coconut
Pinch of fine sea salt
Salmon
6 (6 oz) salmon fillets
6 tablespoons olive oil, divided
3 tablespoons Curry Tea Spice
Black Tea-Coconut Sauce
2 medium onions, sliced
3 garlic cloves, finely chopped
1 piece fresh ginger
1/4 cup Curry Tea Spice
1 1/2 tablespoons tomato paste
2 cans coconut milk
1 1/2 cups water
1 tablespoon white vinegar
2 teaspoons fresh lemon juice
1 dried red chili (such as Thai), seeded, or 1/2 teaspoon ground chili powder
5 tablespoons granulated sugar
5 curry leaves (optional)
2 russet potatoes cut into 1/2 inch cubes
Fine sea salt to taste
1/2 red bell pepper, finely diced
1/2 yellow bell pepper, finely diced
1/2 orange bell pepper, finely diced
1/2 green bell pepper, finely diced
Directions:
Curry Tea Spice: Combine the tea, turmeric, ginger, paprika, coriander, and pepper in a spice grinder or mortar and pestle and grind to a fine powder. Reserve 7 tablespoons for the salmon, and store any leftover in an airtight container in a dark cupboard.
Cilantro Oil: Place the cilantro and basil leaves in a blender or food processor. Pulse to mince, then with machine running pour in the oil, slowly. Continue processing until the mixture forms a fine puree. Use immediately or store, refrigerated, in an airtight container, for up to 3 days.
Coconut Rice: In a large pot, heat the oil over medium heat. Add the onion, stir, and cook until translucent, about 5-7 minutes. Add the rice, stir, and heat for 2 minutes, then add the water. Bring to a boil over high heat, stir, and reduce the heat to low. Cover and cook 40 minutes, until rice is almost tender yet still holding its shape well. Stir in cashews, coconut, and salt. Remove from heat, cover and reserve.
Salmon: Rub the fillets on all sides with 3 tablespoons of the oil, then coat with the Curry Tea Spice. In a large wide pan, heat the remaining 3 tablespoons oil over medium-high heat until hot. Add the salmon and quickly sear on both sides; this should take less than a minute per side and the center should stay rare. Transfer the salmon to a plate and set aside.
Black Tea-Coconut Sauce: In the same pan, add additional oil if needed and cook the onions over medium-high heat until translucent, stirring constantly. Add the garlic and ginger and mix well. Add the Curry Tea Spice and cook for 3 more minutes. Add the tomato paste, coconut milk, water, vinegar, lemon juice, chili, sugar, and curry leaves, if using. Increase heat to high and bring to a boil.
Reduce to low-medium heat, cover, and simmer for 25 minutes to meld flavors. The final sauce should be the thickness of heavy cream. Stir occasionally, adding additional water if mixture becomes too thick. When the sauce thickens, add the potatoes and cook until partially cooked and still slightly firm, about 10-12 minutes. Add the salmon and cook for an additional 5-7 minutes, depending on the thickness of the salmon, until the salmon is cooked to your liking and the potatoes are tender when pierced with the tip of a knife. Taste and season with salt as needed.
To assemble, divide the rice among 6 plates. Surround it with a small amount of coconut sauce. Place salmon fillet and potatoes on top of the rice. Drizzle about 1 tablespoon of the cilantro oil over each fillet, then garnish each plate with the mixture of the diced peppers. Serve hot.
Impression:
This multi-step recipe was easy and fun to make, albeit a bit time consuming. It took me a total of 3 hours from start to finish, maybe with a tiny bit of horse-play. The Curry Tea Spice coated on the salmon looked very inviting. So many different flavors in one that you could hardly taste the "fishiness" of salmon which was great. The Coconut Rice was fantastic. A great combination of coconut, nuts and rice. The Tea-Coconut Sauce turned out to be orangey-red and reminded me of an Indian richness. My main contention is that each level was great on its own, but as a combination I did not quite get how all these flavors matched. Will really liked it, especially since the salmon flavor was completely hidden beneath the garden-variety of seasonings.
One thing to be cautious of is do NOT have this at nighttime. There was way too much caffeine on the spice rub that even I couldn't bear, and I'm the one that can drink a Turkish coffee before going to bed! The 10 tablespoons of Darjeeling tea made my heart pound I could almost hear it. It was also unclear how the cilantro oil topping fit into the picture. This dish could be best described as an ensemble of 5 well-written scenes in one movie yet you can't tell what the entire movie was about. Too bad because I was eager to try this recipe for its mouth-watering title.
I still have high hopes for the rest of the book Culinary Tea. Stay tuned for next week's pick!
Save