I decided I wanted to start with something that sounded a bit easy so I don't get discouraged too soon. I also wanted a combination that was not too heavy for dinner. A soup and salad seemed to fit the bill.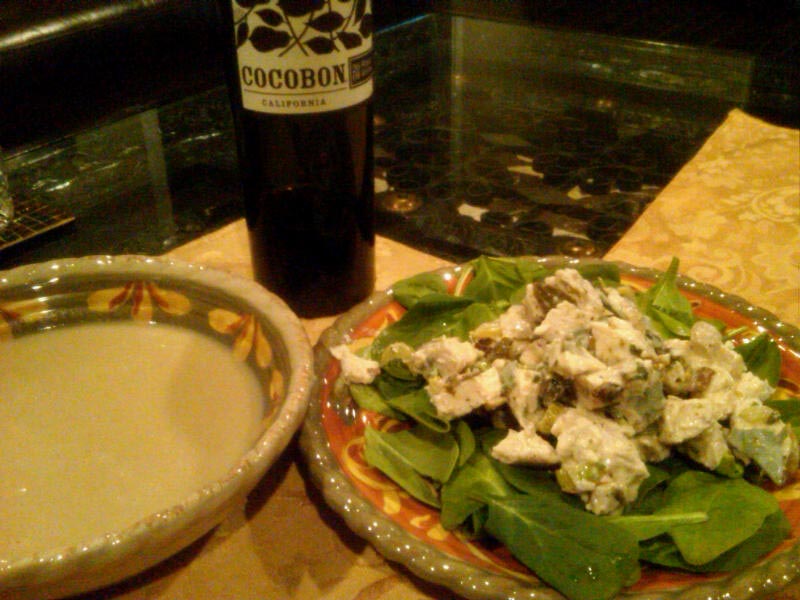 Lapsang Souchong Tea and Parsnip Soup: Serves 4
Ingredients:
2 cups boiling water
2.5 teaspoons loose-leaf Lapsang Souchong tea leaves
1 tablespoon extra-virgin olive oil
1 pound parsnips, peeled and chopped
3 cups chicken stock
1/8 teaspoon ground allspice
1/2 cup heavy whipping cream
1/2 teaspoon fine sea salt, or more to taste
1/8 teaspoon white pepper
1 teaspoon cacao bis for garnish (optional)
Directions:
Put the tea leaves in a medium bowl; pour the bowling water over the tea leaves and steep, covered, for 4 minutes. Strain tea and discard the leaves. Heat the oil in a large pot over medium-high heat. Add the parsnips, and cook for about 5 minutes. Add the tea, stock, and allspice and bring to a boil. Reduce the heat and simmer. Cook until the parsnips are cooked through, about 15 to 20 minutes. Remove the soup from the heat and stir in the cream. Season with salt and pepper. Puree the soup in a blender or food processor (or use an immersion blender) until completely smooth. To serve, divide soup among 4 bowls. Garnish each bowl with 1/4 teaspoon cacao nibs, if desired. Serve hot.
Green Tea-Poached Chicken Salad: Serves 8
Ingredients:
3.5 quarts water
1/2 cup loose-leaf green tea leaves, such as Dragonwell
8 boneless skinless chicken breasts
1 tablespoon olive oil
1.5 teaspoons toasted sesame oil
1 medium red onion, chopped medium-fine
2 ribs celery, chopped medium-fine
1/3 cup rice vinegar
2/3 cup mayonnaise, preferably homemade
1 tablespoon finely chopped fresh tarragon, or more to taste
1 tablespoon finely chopped fresh sage, or more to taste
Salt to taste
Freshly ground black pepper to taste
Salad greens or sliced baguette, for serving
Directions:
Bring the water to a simmer in a large pot over medium-high heat. Lower the heat so that the water is just barely simmering and add the tea leaves. Add that chicken and continue to adjust the temperature to barely simmering (if teh tea mixture gets too hot the chicken will be tough). Cook until the chicken is just cooked through, about 10-15 minutes, depending on the size of the chicken breasts. Remove the chicken when just done. Strain the tea leaves from the liquid and reserve about 2 tablespoons of the leaves. Discard the liquid and finely chop reserved leaves. Set the chicken aside to cool completely. The breasts may be poached and refrigerated up to 2 days in advance.
While the chicken cools, heat the olive and sesame oils in a medium skillet, over medium heat. Add the onion and celery and saute' until they just begin to soften. Remove from the heat, draining any extra oil, and cool completely.
In a large bowl, whisk together the vinegar, mayonnaise, tarragon, and sage.
When the chicken is completely cool, chop or shred it. Add the chicken to the dressing in the bowl, along with the cooled onions and celery and 1 tablespooon of the reserved steeped tea leaves. Season with salt and pepper to taste, and add additional steeped tea leaves, if desired.
Serve mounded over salad greens, or use as a filling for open-faced tea sandwiches.
Impression:
This was a good combination for a soup and a salad. However, I realized a chicken salad is a better fit for lunch rather than for dinner. The soup can be for both. I was very impressed with the way the soup turned out. It has a smooth texture after blending and its color is of soft, desert sand. While hunting for parsnips at the grocery store, I was aiming for a rounded beet-like veggie. I soon discovered that they actually come in a bag and look like carrots that have seen a ghost. The Lapsang Souchong flavor was just right, not too overbearing and not unnoticeable either. I was pleasantly surprised and motivated to discover that Lapsang Souchong even with its potency can hold its own in a dish. The soup's aroma I can describe as inviting. It had an aura of richness but not over the top by any means. The taste of this soup was delicious. It does warm up your insides as promised in the book. I did not have any cacao nibs to add but the contrast would have been a nice touch. I would definitely make this soup again.
I have never poached anything before, nor dropped some tea leaves in a pot to simmer. The process of making this food was very fun. I enjoyed watching the chicken turn solid white while the dragonwell leaves danced around it. I did make sure as the recipe suggests to barely simmer the chicken to prevent it from toughening and it seemed to work well. The sauteed celery and onion was a nice addition to the salad. The preparation of this otherwise simple salad elevated it to a dish you would easily find the restaurant in the Four Seasons. One thing I wasn't too sure of is that the recipe recommends adding the steeped tea leaves from the broth that was poaching the chicken into the salad itself. I know by then the chicken was fully cooked, but just the thought that the leaves were involved with the chicken when raw, I couldn't and still can't get my head out of that image. So this is one thing I would x out next time. The flavor of Dragonwell also was not overbearing at all.
I think I would have enjoyed this salad much more during the daytime. My husband really liked it, but something was off and I just can't quite figure out what I would change. Maybe I should use less sage and/or tarragon. The fresh sage could have been too much. It definitely was not bad by any means, but not amazing either. I think I hyped it up too much in my head. But presentation-wise, it gets and easy A.
I really enjoyed cooking these two dishes. I feel like I learned a lot with combination of ingredients already. One thing that I did not realize and need to be cautious of when picking the menu is the level of caffeine we end up consuming right before bedtime. Both green tea and black tea have caffeine in them, and naturally, Will had trouble sleeping that night. Can't wait to try something else next week! Stay tuned...
Save
Save