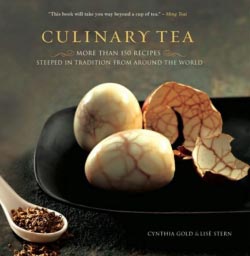 Over the holidays I watched Julie & Julia. Even though I normally don't like chic-flicks I must say that I became totally inspired by the concept! I decided to challenge myself by combining my own two passions: tea and cooking. By blogging along the way, I can guarantee my commitment to this new endeavor.
First let me delve into why these two are my passions. I truly fell in love with tea while I was studying in Spain during college and came across the Moorish tea rooms called Teterias in southern Granada. From the silk cushioned pillow-seats, to the metal tea kettles that pour out aromatic teas packed with a multitude of flowers, herbs and spices in a dimly lit tea house, I had never seen anything like it in the US. This fantasmic experience made me want to pursue a high quality line of gourmet tea in the future. Hence ... California Tea House was born.
Secondly, I was raised in a household with a supermom who cooked, cleaned, washed, dried, ironed, ran errands and brought me a glass of milk while I was in bed up to the day that I got married (at the age of 31!). My mother did everything so that there was no need for me to do anything but work and go to school. She was and is a blessing.
It was not until I got married when I discovered the art of cooking. I enjoy creating meals from scratch, trying new ingredients, exchanging recipes with friends and even following the Barefoot Contessa. Lately, I like to look up food blogs online to learn new skills from others.
So I researched my local library and Amazon to find the best book with the most ingredients on culinary tea. I found just that: Culinary Tea by Cynthia Gold and Lise Stern, just published in 2010 with the mission to increase awareness of tea as a cooking ingredient and "that tea, like wine or garlic or pepper, will be a pantry staple in every kitchen." This book I could not put down. It begins with a summary of the history of tea, describes great detail the various types of tea, discusses homeblending, how to steep and keep tea, and my favorite part is the recommended pairings of specific teas with food. This is just the introduction before the 100+ recipes begin.
Now the recipes have been collected from various chefs in top notch kitchens. These recipes have a wide range from simple tastes to exotic flavors. From appetizers, soups, salads, dressings, spice rubs and main course entrees, to desserts, simple syrups and cocktails, there are tea infusions for every palate.
What's even more special to me about this book is that the authors are from Cambridge Mass., the town adjacent to where I grew up. Now I'm definitely committed.
My goal is to try all of the tea recipes and share them with the world at the rate of two recipes per week at minimum. At the end of this journey, I hope to create my own tea recipes and share them with you, which is line with Cynthia and Lise's purpose for creating this book. So please buy this book, throw on your apron and join me in "cheffing it up" in 2011!
First two recipes: Lapsang Souchong Tea and Parsnip Soup along with Green Tea Poached Chicken Salad.
Save