These days, non-tea-drinkers categorize our fun loving group into two stereotypes: the zen and serene / the pretentious (and possibly British). I'm sure the health-conscious are thrown somewhere into the mix. This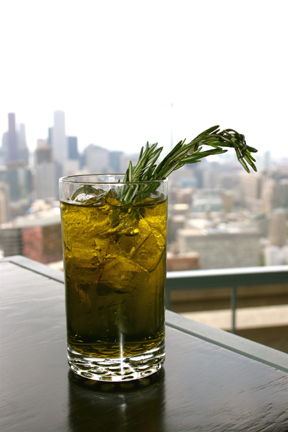 weekend, I vow to throw those preconceived notions to the wind and let lose with a high in tea, low in calorie, summer cocktail. The days are warm and the nights are long, what better time than now? Move over Long Island Ice Tea, there's an electrifying new antioxidant-rich drink on the block. Enjoy...
ELECTRIC HONEYDEW
1 Tbsp green tea leaves (White Monkey Paw green tea works great)
1 Tbsp dried chamomile leaves
2 oz gin
3 leaves anise-hyssop
2 oz pureed honeydew (puree in blender)
3/4 oz lemon juice
1/4 oz agave syrup
1 fennel frond, for garnish
In a jar or glass, mix green tea and chamomile leaves with gin and let sit for 3 hours at room temperature. Muddle anise-hyssop leaves, then combine with tea-infused gin, honeydew puree, lemon juice, and agave in a cocktail shaker with ice. Shake and strain into a martini glass and garnish with a fennel frond.
MAKES 1 SERVING
Calories: 178
Recipe courtesy of Women's Health Magazine
Save