Join the Tea Community!
From now until July 31, 2010, 11:59pm EST, ALL new registrants at www.CaliforniaTeaHouse.com will receive a gift certificate with a minimum of $5 and a maximum of $50. Re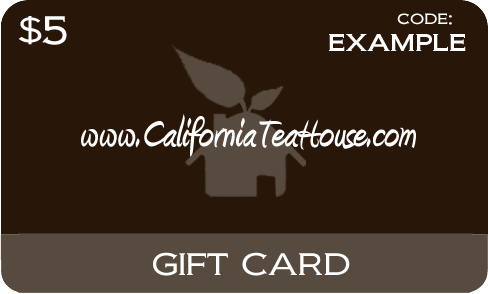 gistering simply includes signing up with a valid name, address and email and opting to receiving the newsletter. The register link is located in the upper right corner of the webpage.
You must REGISTER, not just sign up for the newsletter. Gift certificates are limited to one per household. Winners will receive the gift certificate awards on a randomly selected basis. The top award winners will be posted on this blog posting below at the end of the month.
For everyone who is already a member, be on the lookout in upcoming newsletters for new specials and promotions! Enjoy!
Gift Certificate Winners:
$50 Gift Certificate: rvdru, bobaco, galapogos
$10 Gift Certificates: charley, lauren, lisalaw, laurarebol, marco.downs, lizzyhovey, judi, bar2663, bomar97, jennrippy, drsean, consorte_bella, viva4, DinaJ, Jakaleah, tuckeram, melf6894, caliblonde, bishopsweeps, alibop, majorcat, duranza, scorpgal2010, lilpinky1234, dianabd3, mlaureli, kznomore, dnewwmann
Congratulations and welcome to California Tea House!
Save