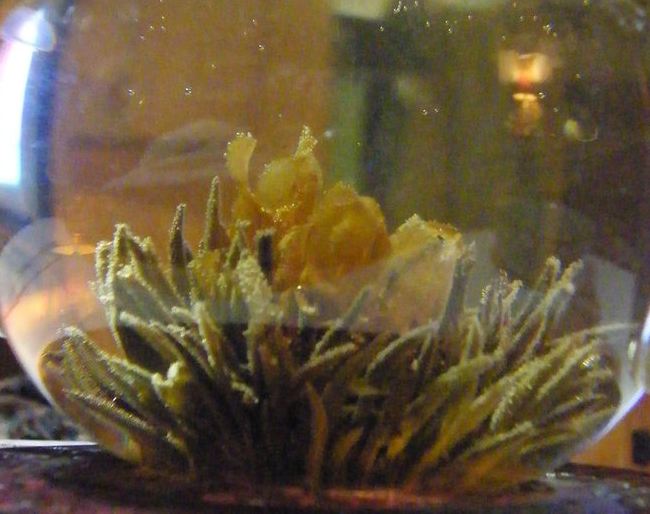 Blooming tea is a visually enticing experience. Hand rolled, tea leaves are bundled up together with various flowers into many different shapes.  Not only is blooming tea easy to prepare, its dancing leaves will draw center of attention to any summer party.
Ingredients:
1. One blooming or flowering tea ball
2. Filtered water
3. Medium to large see-through teapot
Directions:
Bring the filtered water to an almost boil (about 170 degrees).  Pour the hot water into the clear teapot containing the blooming tea ball. Watch the tea ball unravel into a flowery design.  Steep for at least 15 minutes.  Pour liquid into a teacup and drink. Add sweetener if desired.
Tips:
Blooming tea is typically made of Silver Needle white tea. Silver needle can be steeped for a longer period than green or black for added flavor without tasting bitter.  However, once steeped to desired taste, remove liquid from bloom for later use. In addition, fruit preserves are highly recommended as sweeteners rather than sugar. These can be purchased at your local ethnic grocery store.  Some great combinations are rose petal preserves or date preserves.
Save