It's time to introduce our new Tea Tokens rewards program!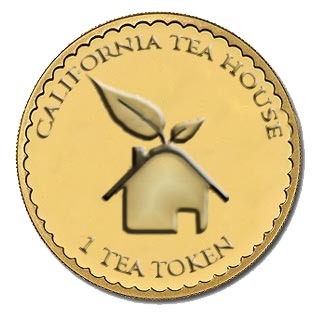 We wanted a way to reward our repeat customers and fellow tea lovers so we added Tea Tokens. Every time you make a purchase you will automatically earn Tea Tokens that you can redeem for free tea on our Redeem Tea Tokens page! What is required to register? Nothing! Just do what you're already doing, enjoy your tea and earn tea freebies! Tea Tokens are just one more way for you to have fun while visiting California Tea House.
Making purchases isn't the only way to earn Tea Tokens. Every time you leave a product review, blog comment or forum comment you will earn Tea Tokens as well. Here's a summary of actions and the amount of Tea Tokens that will be credited to your account as a result:
| | | |
| --- | --- | --- |
| Action: | | Tea Tokens: |
| Any Purchase | | 5 tokens per $10 |
| Referral | | 50 tokens for referral's 1st purchase* |
| Product Review | | 2 tokens per review** |
| Forum Comment | | 2 tokens per comment** |
| New Forum Topic | | 2 tokens per new topic** |
| Blog Comment | | 2 tokens per comment** |
* It's easy to send referral emails to all your family and friends and earn free Tea Tokens. After you place a purchase, on the transaction completion page you can enter as many emails as you like. Referrals will receive $5 off toward CaliforniaTeaHouse and you will earn 50 Tea Tokens when your referral makes their first purchase! You can track your referrals and add more at the bottom of the 'My Friends' section of your profile.
** Please only review teas and products that you have tried. Also, keep blog and forum comments on topic. Any spam will be deleted and tokens will be removed.
HAVE FUN!
Tea Tokens are only good towards future orders - Tokens cannot be redeemed for cash.
Save