Great news for pregnant women!

One of the Debbie Downers of pregnancy is the "black list" of foods that your doctor forbids. Even though this list includes hard-to-part favorites like sushi and caffeine, what's comforting to know is that some types of tea survive the pregnant pause.
Rooibos, a South African red bush, is commonly referred to as 'tea' even though it does not spawn from the camilia sinensis plant where green, black, white and Oolong tea originate.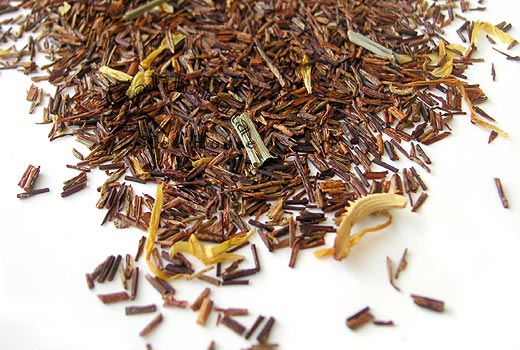 Rooibos, however, stands on its own. Rooibos hatches from the leaves and stems of the indigenous South African plant Aspalathus linearis. It has gained much attention for clinical purposes in the case of nervous tension, allergies (dermatitis), insomnia, headaches, nausea and various indigestive problems.

Rooibos is caffeine-free, naturally sweet in flavor, and is high in antioxidants, which fight against free radicals that cause major illnesses such as cancer, heart attack and stroke. Research shows that Rooibos' DNA incorporates a garden variety of minerals such as copper, iron, potassium, calcium, fluoride, zinc, manganese and alpha-hydroxyl, which has been shown to be beneficial for skin rebirth.

What is revitalizing about Rooibos as an herbal tea is that it contains no additives, preservatives or artificial colors, a perfect combo for limited diets. Not only is Rooibos great for mothers, it can comfort your sweet lil' darling too. Rooibos in Africa has been known to treat colic and stomach aches in infants.

What's especially great for pregnant women is that Rooibos nurses the digestive tract, prevailing against nausea. So the next time you embarck on your first tri-mester journey as porcelain queen, be sure to sip on Rooibos and put this mom-cifier to test.
Sources:
Erickson, Laurie: New Research Documents Antioxidant and Anticancer, 2002
http://pubs.acs.org/doi/abs/10.1021/jf025697h

Save