Christmas is just around the corner and we don't really get white Christmas here. If you are one of those lucky people that live places where the first snow starts falling on Christmas Eve, you probably like warming yourself up with a cup of great tea. Even if you live in a warmer climate, maybe you should buy white tea and create a perfect Christmas atmosphere this year.
Why did we chose white tea for Christmas?
Because black and green Christmas teas are so last year. Seriously, have you ever had a white Christmas tea? We have, and we are just about to tell you which of them are the most desirable. White tea is perfect for blending with spices or citruses, which makes it even more perfect for making soothing holiday tea lattes.
Symbol of Christmas
In some countries like Greece, pomegranate is the symbol of Christmas. Not only this fruit is an excellent source of vitamins, it has addictive flavor and matches the delicacy of white tea perfectly. We made sure to blend them together in a must buy white tea blend called Pomegranate Peony. The gift of a pomegranate is the gift of grace, and there is no period more graceful than family holiday.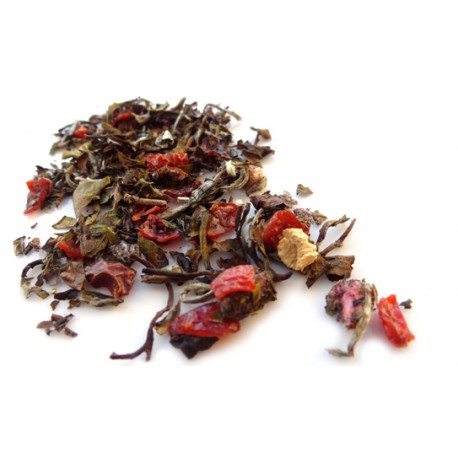 Buy White Tea and Make Your Own Blend
You can buy white tea that is unblended and try to experiment with ingredients like cinnamon, cloves, orange, lemon, star anise, nutmeg, lime, walnuts, and cranberries. Or, one of our favorite choices, make a simple white tea latte and decorate it with a candy cane.
White Tea Chai
Chai is certainly the most popular winter drink in the world. Unique combination of spices like ginger, black peppercorns, cinnamon and cloves, is the symbol of every holiday feast. The best choice for making white tea chai is organic White Peony. Pssst... we didn't tell you that, but you could even use your favorite gingerbread spice mix and make the whole process much easier.