California Tea House cares about your opinion and thoughts. We want to reward you with free tea for participating in interesting tea discussions and sharing your tea passion with other tea lovers.
We asked ourselves, what makes us extremely happy? Free tea, of course. With our Tea Tokens Reward Program, earning a free teatime has never been easier. We wanted to find the fun and easy way to reward our loyal customers that like to buy tea online and fellow tea lovers.
How to Earn Free Tea Tokens
Tea Tokens are just one more way for you to have fun while visiting California Tea House. They can be earned in a few different ways. You earn them with every purchase, for referring us to other tea lovers*, for writing product reviews, posting comments and creating new topics on our forum, and for commenting on our blog**. Please don't spam, it won't bring you a kilogram. We appreciate the effort and loyalty of our customers and passionate tea drinkers, therefore we want to make things fair. Spam comments won't bring you Tea Tokens.
Tokens are counted automatically. All you have to do is start sharing your tea thoughts or asking tea questions and sip your tea because in no time you will get the opportunity to redeem your Tea Tokens for more tea. You don't even need to register to participate in our reward program, your account is eligible automatically upon registering to our site. We wanted to make things very easy for you, because, drinking tea should be about peacefulness of mind and enjoyment.
Redeem Tea Awards
Here's a summary of actions and the amount of Tea Tokens that will be credited to your account:
| | | |
| --- | --- | --- |
| Action: | | Tea Tokens: |
| Any Purchase | | 5 tokens per $10 |
| Referral | | 50 tokens for referral's 1st purchase* |
| Product Review | | 2 tokens per review** |
| Forum Comment | | 2 tokens per comment** |
| New Forum Topic | | 2 tokens per new topic** |
| Blog Comment | | 2 tokens per comment** |
Tokens can be exchanged during check-out and are valid for future orders. 10 tokens are worth 1$. Check our specially selected teas, find your favorite, and start having fun on California Tea House web site. And no, you cannot exchange them for cash, only for tea leaves. (Did you know that there are some teas more valuable than gold?)
HAVE FUN!
* It's easy to send referral emails to all your family and friends and earn free Tea Tokens. After you place an order, on the transaction completion page you can enter as many emails as you like. Referrals will receive $5 off toward California Tea House and you will earn 50 Tea Tokens when your referral makes their first purchase! You can track your referrals and add more at the bottom of the 'My Friends' section of your profile.
** Please only review teas and products that you have tried. Also, keep blog and forum comments on topic. Any spam will be deleted and tokens will be removed.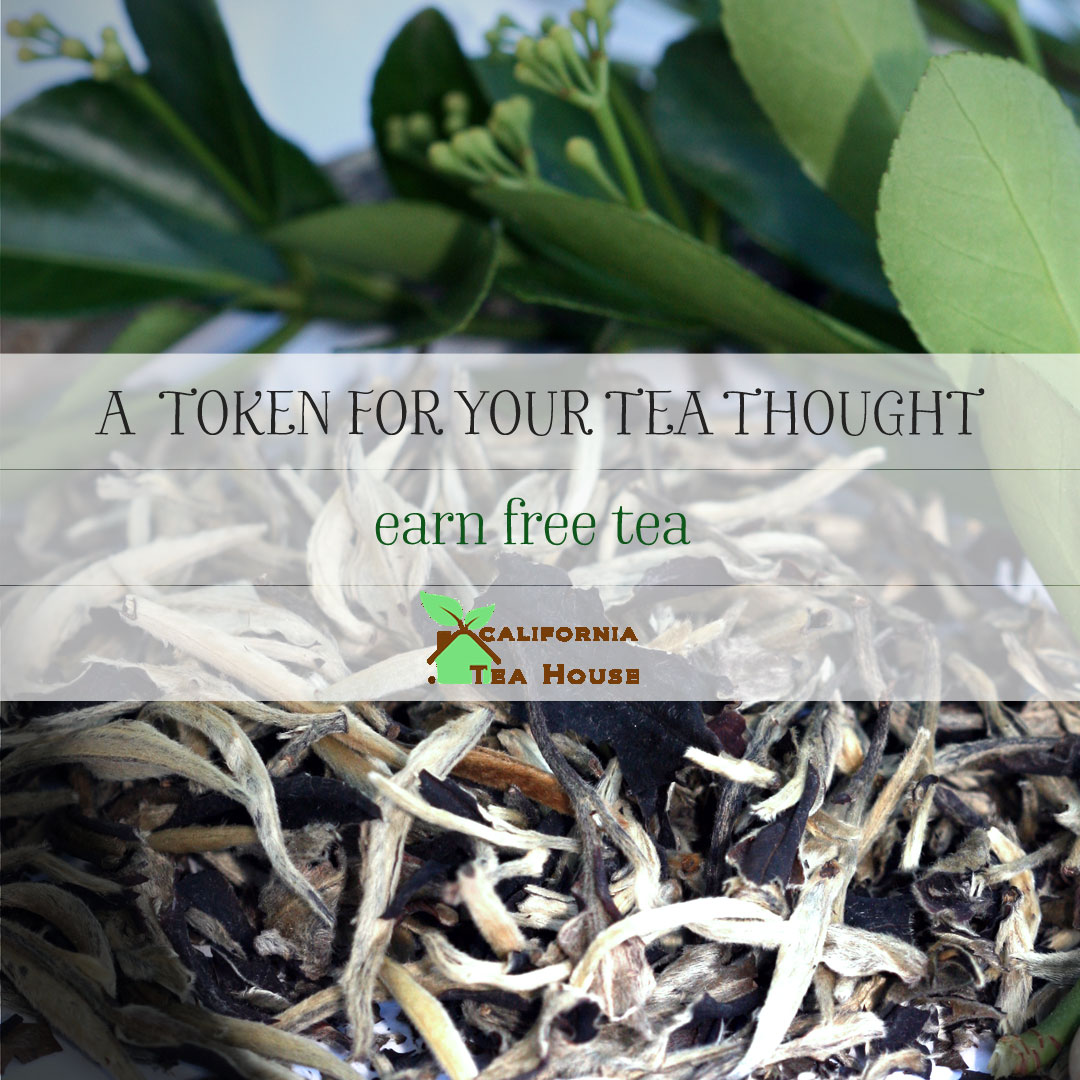 Save
Save
Save
Save
Save
Save
Save
Save
Save