Pu'er or pu'erh tea is one of the most popular dark teas in the world. It comes from Chinese province Yunnan. Only the dark tea from Yunnan is called pu'er. It was named after the city of Pu'er, now called Simao. Pu'er can be ripe or raw (sheng or shu), and it can come in many different shapes and sizes. Maybe you already saw different shapes of pu'er tea in online tea shops. Do you know their names?
Roots in history
Even though the most of tea nowadays comes in loose leaf form, it wasn't until the Ming Dynasty that compressed tea was replaced with loose leaf tea. Tribute tea cakes were extremely famous during the Tang and Song dynasties. Compressed tea was grounded and mixed with hot water. During the Tang dynasty princess Wengcheng brought tea to Tibet. Tibetan butter tea has a great cultural importance, and it is made from compressed tea, mixed with yak butter and salt. Compressing tea had one important benefits – it was much easier to transport it on long routes.
Shapes of pu'er tea
Pu'er comes either in loose leaf form or compressed form. It is unique both in shapes and production. Other types of tea can also be compressed, but not so often as dark tea. The most popular shapes are bingcha (饼茶) or cake, zhuancha (砖茶) or brick and tuocha (沱茶) or bird's nest. Bingcha usually weights 357 grams, while tuocha is mostly found in mini version, just enough for one brewing sessions, or regular size of 100 grams or more. Other shapes are fangcha (方茶) or square brick, jincha (紧茶) or mushroom, jinguacha (金瓜茶) or pumpkin and small longzhu (龙珠) or dragon ball, also perfect for one brewing. All these shapes can come in many different sizes, and can weight even more than one kilogram.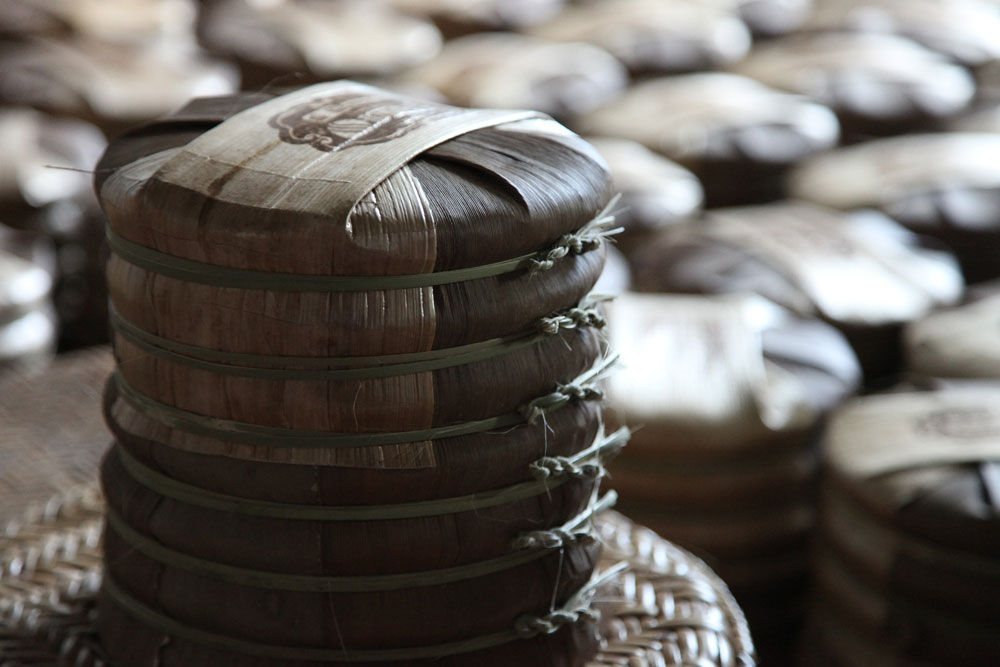 Adding scent
Pu'er can be found in scented version as well. Flowers like rose, chrysanthemum, osmanthus, peony are often found compressed together with leaves. Scenting is very "basic", without artificial flavors and scents.
Which shape do you you like the most?
Save
Save
Save
Save
Save