If you've just recently switched to drinking tea, you probably already know that your kitchen cupboards need a makeover. To help you stock your cabinets with the highest-quality teaware items, we'll introduce you to the best tea-making supplies and tea blends that will make your teatime stress-free and enjoyable.
Choosing your teaware
First, you'll want to have several gadgets and teaware on hand that will streamline the tea-making process.
1. Kettle
A kettle is absolutely essential for making tea and helps you brew tea quickly and safely. You can choose from stovetop or electric models; these are usually made of glass or stainless steel. Both options are effective, the one that will work best for you is just a matter of personal preference. If you make several cups of tea each day, an electric kettle may be the better choice, as it will generally brew tea faster than stovetop kettles.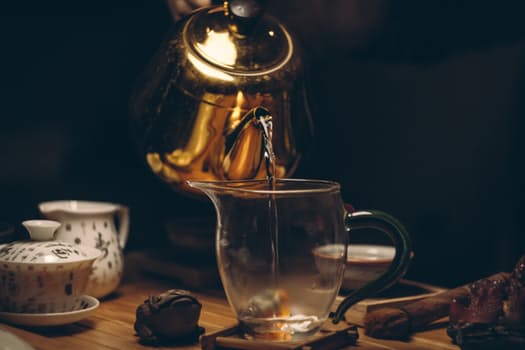 2. Infuser
If you use loose tea, an infuser is a must-have to prevent the loose tea from mixing with your water. The most popular types of infusers are tea balls and tea infuser baskets. To use a tea ball, you fill it with loose tea and place it in your mug of boiled water. It's attached to a chain, so you can easily pull it out when the tea is done brewing. Tea basket infusers sit on top of your mug or teapot, and you fill them with loose tea. When choosing an infuser, keep in mind that since tea balls are smaller than basket infusers, they might not allow the tea leaves to expand as much as tea baskets, which might affect the flavor of some teas.
3. Teapot and mugs
Many people find that choosing their teapot and mugs is the most fun part of the entire cupboard restock. It's a chance to express your personal style, and you may even decide to change things with the seasons! You can choose from ceramic, porcelain, and fine china, and teapots range from small 2-cup, "tea-for-one" styles to larger 12-cup models that will hold tea for the whole family. Whichever style you pick, make sure it's durable and can handle boiling water--surprisingly, some so-called "teapots" will crack if boiling water is used in them!
4. Tea cozy
Tea cozies are used a lot in England. Usually knitted, they keep the teapot warm and are another chance to express yourself. Popular designs include bright solid colors, polka dots, ruffles, and floral prints. You may even wish to make one yourself.
Using your teaware
After you have all the tea-making essentials, it's time to choose something to drink! As a tea newbie, you can't go wrong with the following organic blends.
This is the perfect blend for black tea lovers and is one of the finest black teas you can buy. Known for its smoky flavor and fragerance, you can steep it for 3-5 minutes (longer for a smokier flavor). Experiment and see which way you enjoy it most!
If you're more of a green tea drinker, you'll love this traditional Japanese blend, which includes toasted rice. It has a crisp, clean flavor without the bitterness that can be associated with green tea. For best results, steep it a maximum of 3-4 minutes.
Herbal tea fans will love this dessert-like blend of chocolate chai. With white chocolate pieces, orange peel, cardamom, ginger, and peppercorns, this is a spicy blend that works hot or iced. Steep for 7-10 minutes for maximum flavor.
For a truly special tea-drinking experience, this blooming tea is exceptional. With jasmine, marigold, and amaranth, it makes a beautiful display. Steep for 4-6 minutes, and enjoy watching the flower bloom in your teacup!
Now that your cupboards are fully stocked with the best tea-making gadgets, teaware and tea blends, we hope you will enjoy drinking tea regularly!
Save