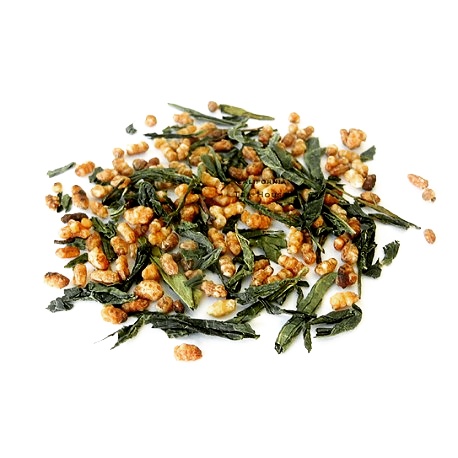 For centuries, green tea has been the most popular tea in China and Japan, and many Americans now choose to drink it because of its health benefits. There are countless varieties of green tea, so even if you're an avid tea drinker, you'll always be able to find a new one to try. Genmaicha tea is one of the most unusual ordinary Japanese green teas.

What is Genmaicha Tea
While you may have heard of matcha or other types of Japanese green tea, genmaicha tea is a type of green tea that has a really distinctive flavor. You may recognize it by its nickname, "popcorn tea." It's thought to have been created centuries ago by cost-conscious monks who used toasted rice as a filler in their tea.
Genmaicha tea is usually made from the Sencha or Bancha varieties of green tea and is an ideal tea for stress relief. As a green tea, it contains a very high concentration of polyphenols (antioxidants) and can help with weight loss and lowering high cholesterol. At California Tea House, we made this into a unique, top shelf blend by using Imperial gyokuro green tea for our genmaicha blend. Gyokuro is renowned in Japan for its smoothness and fragrance, and it doesn't have any bitter aftertaste. For the "popcorn," we toast sticky rice to add sweetness and a nutty flavor.
Brewing green teas like genmaicha tea is a little different to brewing other types of tea. It's important not to use water that is too hot and to avoid steeping the tea for too long. It tastes best if you bring mineral or filtered water to a boil and then let the water sit until it is around 180 degrees Fahrenheit. After that, steep about 1 teaspoon of tea per cup for 3-4 minutes.
Through honoring tradition and adding a few 21st-century twists, we've created a very special genmaicha tea that you won't find anywhere else and is guaranteed to impress your taste buds. You can find out more about it in our online tea shop:
Save
Save