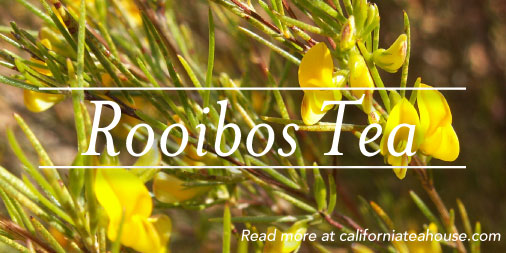 If you're concerned about your caffeine intake but don't want to quit it altogether, pu-erh is the tea for you. But, if you have issues about caffeine and want it out of your life forever, shop for rooibos tea instead. Why? NEWSFLASH: Rooibos is completely caffeine free. That's right folks, if you want a completely sinless liquid vice, rooibos is the tea for you. Here's a quick crash course on everything you should know about rooibos--
What are the benefits of rooibos tea?
Rooibos, which is an Afrikaans word for "red bush" comes from the plant aspalathus linearis. In South Africa, people typically drink it with milk and sugar; but it's no problem to drink it straight up. Unlike most teas, rooibos tea is absolutely caffeine free and naturally sweet as well. But like most teas, it's rich in minerals and contains antioxidant properties. It's rich in minerals that help in developing and maintaining strong bones and teeth. It improves circulation and also helps defend cells from damage.
When's the best time to drink rooibos tea?
Rooibos is perfect as an after-meal drink or what we all a dessert tea, not only because it's naturally sweet — it aids in digestion as well, and relieves stomach upset.
How do you prepare loose leaf rooibos tea?
If you want to brew your own cuppa, prepare 1.5 tsp of this tea to 80z of briskly boiling water. Let it boil for five minutes tops. If it boils for longer than that, the rooibos will become bitter. If you want to take it iced, just double the amount of tea and pour it directly into a jar or pitcher full of ice, and it's ready!
When purchasing loose leaf rooibos, make sure it's organic with virtually no stems. This will ensure a healthier and more flavorful cup. Here at our shop, we offer unique dessert rooibos tea blends — perfect for dessert or a late night cuppa! Try it for yourself and let us know how you find it.
Save
Save