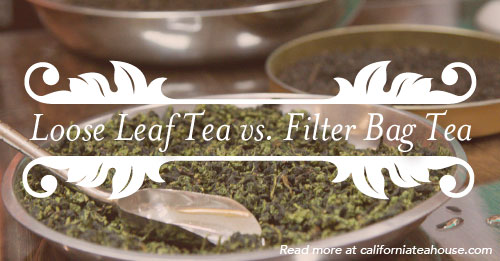 via: Avery Segal / Freepik
Loose Leaf Teas vs. Filter Bag Tea Match

Tea lovers don't need any introduction for loose leaf teas. For beginners though, it might feel the same as normal (commercial-grade filter bag) tea, but just not brewed in tea bags. Some might wonder, what difference does that make? Let me tell you now - it actually DOES make a huge difference.
When you steep tea leaves, it should have enough room to infuse and to absorb the water. This helps the boiling water in extracting the vitamins, flavors, minerals, and aromas in them. This happens when you steep loose leaf teas.
But for a commercial filter bag tea? This infusion process is limited by the size of the bag. Although filling the tea bags with smaller particles of tea leaves increases its surface area and thus increases the taste of the tea, this brewing process eliminates vital minerals present in the tea.
Commercial filter bag teas are also made to be standardized. People expect commercial teas to taste the same from year to year every single time. People also expect a standard price, not a price the varies from season to season. This buyer expectation means that large tea companies tend to compromise on flavor and aroma. A commercial filter tea is typically stripped of flavor, aroma, and even vitamins and minerals in favor of a standardized taste and price.
Tea in its more natural state has differing aroma and flavor profile from year to year. This is what makes tea so interesting in the first place! If you want to experience the full taste of tea and enjoy its full health benefits as well, it's time you transition to loose leaf teas.
Specialized loose leaf teas from small tea shops like ours are the best place to start. We can even help make it easier for you by giving you personalized recommendations for free! Just tell us what kind of taste you like and Will or Ani can help you pick the best kind of tea for you. Simply email Will or Ani here.
Have you tried loose leaf tea before? How did you like it? Sound off in the comments below. Don't forget to share the love by liking and sharing this article with your tea loving friends!
Save
Save