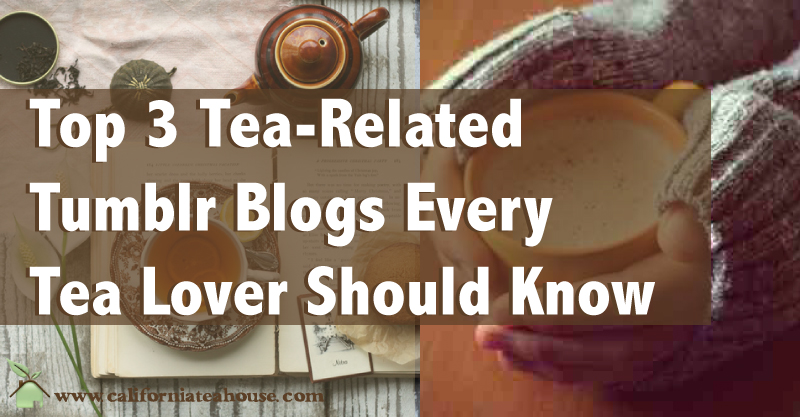 Last month, I talked about great tea-related subreddits. This week, let's head on to Tumblr for our tea fix. Tumblr is a great place for a good laugh. It's full of crazy people with crazy ideas on the most mundane things. AND, more importantly, it's also filled with people who enjoy tea.
I love browsing tea stuff on my computer while drinking tea — it's a huge part of my morning routine. Usually I just sit around and look at my phone, but sometimes when I try to get some work done before finishing my drink, I end up sitting on the computer and browsing through tea porn on it.
The site that goes best with my morning cup of loose leaf tea? Tumblr. Seriously, it's like Instagram on steroids! The photos are a lot larger, a lot less over-processed, and it gives the bloggers bigger room to write things about the photos too.
While there are a lot of tea things on my dashboard, here are my top 3 favorites:
This blog keeps up with it's tagline, "All tea all the time". It is literally jam-packed with tons of tea porn: tea cups, tea-themed accessories, and even geeky teaware like this Tardis tea set:
SOURCE: http://teaterritory.tumblr.com/post/92576234098
Tip: View this blog on its own as opposed to viewing it on your dashboard. The blogger's attraction to saturated colors and yellowish tones create a motif on her overall page and is best appreciated when you look at the page itself. When I want to evoke feelings of warm summer mornings or cold Christmas nights, I go to her main page to get my fix.
Books and Leaves is about, well, books and tea leaves, but mostly tea. I love this blog because it's full of tidbits about different kinds of tea from all over the world. As a tea noob, I learn a lot of stuff here without feeling overwhelmed because the information provided is written in a short and concise manners. Like this short piece about matcha tea. Plus, it has lots of pretty pictures across the page.
This blog is an amalgamation of all things tea. From cultural tidbits about tea, portraits of people all over the world enjoying tea, to cute tea-related artwork and funny and interesting trivia about tea.
Like, have you heard of the mustache cup? Apparently in the Victorian era, protecting your mustache from the steam of tea was a thing.
SOURCE: http://teaismycupoftea.tumblr.com/post/96388343210
Don't doubt it, the Mustache Cup is in Wikipedia. [Tweet this!]
If you want to drown in tea cultures, pretty photos, and crazy trivia, "Tea is My Cup of Tea" is for you. But who says you can only choose one of the three? Go ahead, create an account on Tumblr and follow them all!

Liked this post? Tell your friends by posting it on your Facebook page or Twitter! Plus, don't forget to tell me what you think of the blogs on the comment section below!
Save