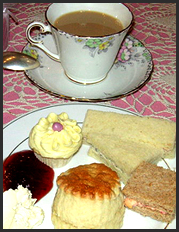 Throwing a children's tea party isn't just about fun and playtime. This is in fact, one of the best ways to introduce healthy tea drinking to kids. So if you are planning to give your child a bash or if you're up for a simple bonding time, then why not go for a tea party?
Gone were the days when a children's tea party is all about plastic tea cups and stuffed toys. With your guidance, you can make this experience a happy reality for the kids. Here are some simple tips to make sure the fun never spoils:
Set the time and venue. Like any other events, setting the 'where' and the 'when' is the first step. With this in place, planning the flow becomes easier.
Prepare a guest list. Decide how many people are coming to the tea party. Knowing the size of the crowd can help you better organize the event.
Create an invitation. Tea drinking and tea party has been a custom and tradition to many places. For best experiences, prepare an invitation for each of your guests and make sure that you get to deliver each of the invites.
Plan a menu. Try talking with your child and ask what his/her food preference is. Usual food for tea parties include pastries, cupcakes, cookies and sandwiches.
Decide what tea to serve. Since tea is healthy and great-tasting, there isn't too much of a concern regarding the tea choice. But if the tea party is for very young children, opt for those with less caffeine content and make weak pots of loose leaf tea. Try using loose leaf rooibos tea, loose leaf herbal tea, loose leaf white tea and loose leaf green tea.
Create a theme. To make your kid's tea party more exciting, follow a theme. You can ask your guests to dress up according to it. Don't forget to decorate your venue accordingly!
There are plenty of ways to make children's tea party a fun experience. All you need is a little bit of creativity and some good ol' loose leaf tea.
Save