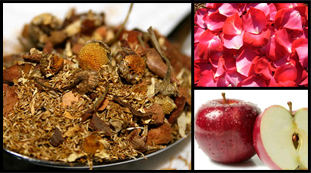 Has your skin been through a lot that it now appears to always seek attention? It's because stress can create several effects on a person. It not only affects the mind and the body but also the skin. Most common signs of stressed skin are dryness, fine lines and redness. When at least one of these appears, do not wait any further for the condition to worsen. Pamper your skin with a natural tea bath and see it revived and refreshed.
Ingredients:
1 piece apple, finely sliced
3 heaping tablespoons of loose leaf chamomile tea
1 cup rose petals
Each individual components comprising this tea bath has specific functions to get your skin feeling rejuvenated. Chamomile tea is known for its calming effects and flavonoids, roses has anti-inflammatory effects that can help sooth irritated skin while apple is a rich source of antioxidants and Vitamins A, B and C.
Preparation:
Boil 3 cups of water.
Pour loose leaf chamomile tea on hot water and let it steep for at least 15 minutes.
Fill your bath with water and add the tea infusion (include chamomile tea leaves).
Add the sliced apple and rose petals.
That's just it! Enjoy a long bath. If you do this frequently, you'll find your skin relieved from stress and inflammation. You'd also get to enjoy a youthful, revitalized skin for a longer period of time.