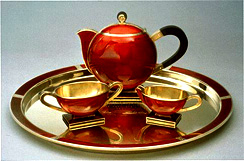 Both tea and coffee have been the world's second most favorite drink after to water. Most tea and coffee enthusiasts can hardly choose which among these two drinks is better, but now to perhaps settle this dilemma, a coffee leaf tea has been discovered.
The researchers of this so-called "coffee leaf tea" - the Royal Botanic Gardens in Kew, London and the Joint Research Unit for Crop Diversity, Adaptation and Development in Montpellier made a rare tea out of coffee leaves and claims that this is healthier than both drinks.
The brew takes pride in its high levels of compounds. It is believed to have more antioxidants than regular tea and has mangiferin (natural chemicals usually found in mangoes) to combat inflammation, reduce risks of diabetes and cholesterol, and has the ability to protect brain neurons. It contains lower levels of caffeine, and tastes earthy - but neither as bitter as tea nor as strong as that of coffee.
The drink came from coffee leaves - which are far healthier than coffee beans. The researchers hope that it could rival traditional coffee and tea drinks in the long run, particularly because of its health benefits.
While the breakthrough may appear promising, the researchers stressed that the health benefits of compounds from coffee leaves require a more intensive research, as findings on the health effects of the traditional coffee (from the coffee beans) sometimes show conflicting results.
So while you are searching for a good, healthy drink, why not indulge in a cup of tea. It has been enjoyed from generations to generations, and has extensive studies backing up its health claims to date.
Save