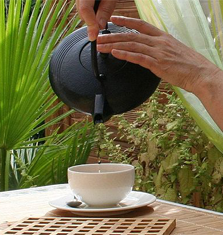 A significant milestone in the field of medicine has been discovered by researchers just recently - that flavonoid compounds (antioxidants found in plant-based food and drinks) are said to have the potential to fight prostate cancer.
But despite this promising finding, it is yet very premature to conclude that flavonoids, as a whole, could fight prostate cancer. Researchers however, have long hypothesized that these antioxidants may potentially reduce risks of certain cancers, given their ability to fight inflammation, oxidation, tumor growth and cell death.
The study involved around 1,900 newly diagnosed prostate cancer patients; where it has been found that those who take large amounts of food rich in flavonoid, have slowly developed the illness by 25% compared to those who significantly take much lesser.
And what does it have to do with tea?
This discovery has become an addition to one of the many tea health benefits known to us. As a little review, tea is rich in antioxidants particularly this so-called flavonoids. Tea flavonoid contents are significantly greater as compared to other plant food resources. And so, should you wish to enjoy health in a lovely drink, go ahead and have a healthy cup of tea.
Save