Our Southern friends have been cooking with tea for years. In the American South tea is ideal not only for drinking, but also for brining, making a simple glaze or, like my recipe below, used dry as part of a rub. This recipe can be used also be used on ribs, beef roasts, and poultry. If you are using ribs or poultry with skin still on, omit the vegetable oil.
Lorrayne's Lemon Sweet Tea Pork Roast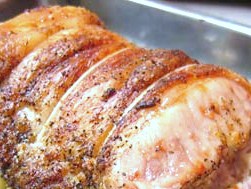 ½ ounce, or 6 bags, of black tea leaves
1/2 packed light brown sugar
Kosher salt and coarse black pepper to taste
1 large lemon
1 3-4 lb roast, any cut
1 roughly chopped shallot
1 tbsp vegetable oil
Directions
1.Combine half the loose tea with 1/4 cup brown sugar, salt and pepper.
2.Using a boning knife, make 7-10 small incisions in the roast. Pack chopped shallot into incisions.
3.Rub entire roast with oil.
4.Rub the dry tea mixture all over the roast, place in a roasting pan, and bring to room temperature, about 20 minutes.
5.Preheat the oven to 275 degrees F.
6.Steep the remaining tea in 2 cups boiling water, about 5 minutes.
7.Discard the bags and stir in the remaining ¼ cup brown sugar and the juice of half the lemon. Pour the mixture over the roast.
8.Cover with foil and roast until the meat reaches 150 degrees, about 1 hour 30 minutes.
9.Let meat rest 20 minutes after cooking to preserve juiciness!
Option for barbecuing: After surrounding the meat completely in foil, place over a very low fire on the grill for 1 hour 30 minutes. Turn meat halfway through cooking. Make the mixture that starts at step 6, and reduce it by half. Use is as a finishing sauce after the meat comes off the grill.
Save