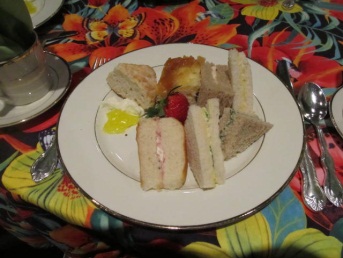 Here in Southeastern Pennsylvania, the Philadelphia International Flower Show's one of the big social events of the year and the largest harbinger of spring. This year's theme was Hawaiian. Think leis, orchids, and hibiscus. Also think many judging categories and the crowds befitting the largest indoor exhibition in the world. So, when my husband and I discovered that the Pa Horticultural Society was offering a garden tea in a converted conference room away from the bustle of the crowds, we leaped.
Each tablecloth in our delightful improvised tea room was of a Hawaiian floral design and each was graced with an elegant large silver teapot in the shape of a watering can. As a matter of fact, the large teapot really did contain just water and we were offered a selection of bagged teas to steep in individual ceramic pots.
I first chose a black mango coconut which I sipped while eating crust-less tea sandwiches. We were served 5 varieties of those which included salmon with cream cheese, deviled ham, cucumber, watercress, and egg. My favorites were the cucumber and the salmon. My husband loved the deviled ham as did some of our table-mates. We were also treated to cheese, a strawberry garnish, and seedless grapes as well as a few yummy bites each from a pineapple upside down cake and of a tasty basic scone with the option of adding the classic accompaniments of cream and lemon curd.
While finishing up all my goodies, I drank a cup of mango passionflower herbal tea and combined it with some black tea. That was both to cut the tea's sweetness and to get just a little more energy for round 2 in the Flower Show's exhibit area. To keep my aloha spirit going, I'm planning lots of tea breaks with macadamia nut cookies and green mango tea.
Save