I'm not proud to admit it, but though I consider myself a tea lover, I've never been a fan of green tea. I'd love to get a dose of green tea's healthy antioxidants, like the EGCG I profiled in a previous post, which can fend off cancer and Alzheimer's. I like green vegetables, green lights, and the green movement to save our beautiful planet - and yet, somehow, green tea left me cold.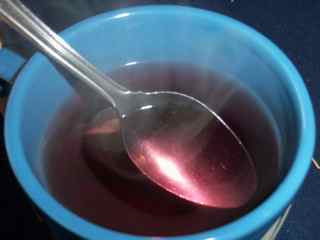 I recently received, as a gift, a small tin of green tea flavored with pomegranate and hibiscus. Honestly, pomegranate is another so-called superfood that has just never thrilled my taste buds. And while two wrongs don't make a right, today I learned that two flavors I don't particularly like can combine to create a beverage I truly enjoy.
Yes, I brewed a cup of pomegranate tea. I was first charmed by its pleasant pink color, then by its gently fruity and tropical sweetness. (Full disclosure: I added sugar.) It may never be my go-to tea, but it's another pleasant afternoon infusion to add to my tasty arsenal. I wish that every time I tried something new it went this well! When was the last time you tried a new tea?
Save