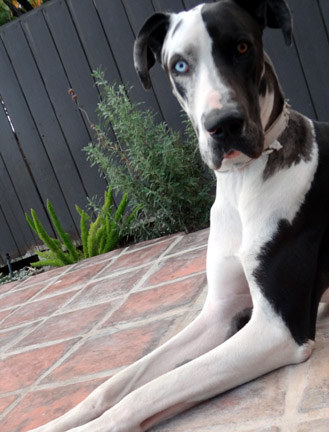 Introducing the first ever tea for dogs, Machu's Blend. An all-natural, herbal tea blend formulated to keep your best friend healthy, happy and lower the stresses that shorten the lifespan of urban dogs. We have a Great Dane named Machu Picchu who has become a bit of a mascot here at California Tea House. Machu spends most of his time laying around on his enormous day bed, soaking up the sun and welcoming guests while we scramble around blending and tasting new teas.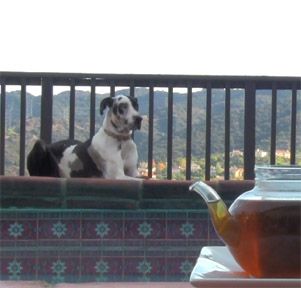 Like all dog lovers, we want only what's best for Machu. We feed him all-natural, grain-free dog food, he sleeps on an organic mat and we use only herbal, topical treatments to prevent ticks and fleas. So naturally, when we needed to treat a skin condition that was causing Machu to shed, we sought a healthy, organic alternative to the chemical, traditional treatments that, until now, were the only option.
After consulting with numerous veterinarians, and compiling research on herbal treatments for canines, we put our tea blending skills to work for our canine companion. Machu's Blend is a once-a-day herbal tea comprised of Chamomile, Ginger Root, Fennel Seed, Skullcap and Calendula that not only promotes healthy skin and coat for your dog, but also lowers stress and aids digestion of dry dog food, easing the stomach and reducing gas. In addition, Machu's Blend is great for treating dogs that suffer from seizures as well as motion sickness caused by car rides.
Brew up some Tea for your Dog today, and enhance your best friend's quality of life. Click here to go to Machu's Blend.
Save