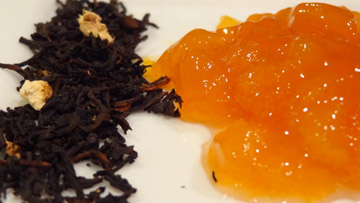 If you're looking for a unique gift for Valentine's Day for a special person or even something to add some fun to your Valentine's Day date... We have a couple of romantic teas that are perfect for Valentines Day! Why go with the same old chocolates in a box routine when you can give chocolate tea!?
Check out our very own custom blended Apricot Chai aphrodisiac black tea and our Chocolate Chai herbal blend. Click on the names of the teas to go to their product pages, read about the delicious ingredients, learn about how we blended these very popular blends, their health benefits and pick up a bag or two to enjoy on this romantic holiday. Don't forget we offer gift wrapping as well!
We just finished blending and packaging these two favorites, and they are ready to go. You'll have to act quickly though. Like always, we custom blend our specialty teas in small batches to ensure the finest quality and the freshest ingredients. We will probably sell out in a day or less! Buy $50 or more worth of any of our teas and get 10% off with this limited time coupon code:
VDAY2012
Code expires 2/15/2012. Order by 2/9 for delivery on or before 2/14.
Save