I love getting mail. Call me old-fashioned, but I'm addicted to the daily thrill of opening the mailbox and flipping through its contents in search of a hand-lettered envelope. I swoon to find one. But - as college students and sleepaway campers have known for years - there's really nothing like a package with your name on it. It begs to be torn open. It's a party unto itself.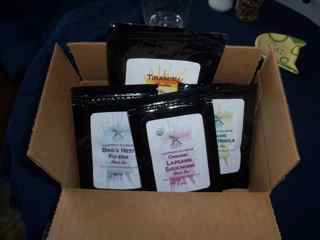 Online shopping lets me send myself gifts from shoes and underwear to books and - you guessed it - tea. If you're reading this, I know you understand the pure joy of a brewable gift that truly keeps on giving. I now have bags of tea to open and enjoy again and again. (It's way more fun than trying on my new shoes for the fifth time.) My most recent delivery arrived last month, and as you can tell, I'm still excited about it.
As my tea shelf spills out of the cabinet and onto the kitchen counter, I try to limit my purchases, but sometimes i can't help myself. Especially if it's going to be delivered to my door with my name on it. I bet you can relate.
Save