One of my versions of heaven is a quiet room, homey, with an endless supply of books and an on-demand selection of perfectly-brewed teas. (Since it's heaven, I'll request some tasty snacks, too.) So anytime I happen upon a teahouse, I seriously consider moving in. I recently enjoyed an hour in just such an idyllic spot.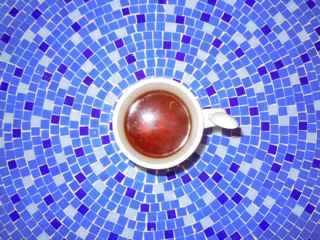 The coffee houses I've experienced (yes, sometimes I do enjoy a cup of joe) can't hold a candle to tea houses. Step inside a tea room and you're met with an air of calm, because people aren't doing that grab-the-caff-and-go routine: they're sitting and chatting, sipping slowly, savoring. (But they're not holier-than-thou, so you can get a cup to go if you need to hit the road.) Plus, tea houses provide the utmost in personalized service. Select your tea from a list which might be several pages long - not from a "what we're brewing today" mini-list. It arrives at your table perfectly steeped, or accompanied by a tiny hourglass to tell you when it will be ready. These details never fail to make me feel special.
And what's on the shelves? (Of course there are shelves.) Quirky teapots, flowery cozies, gold-accented teacups, and other paraphernalia to allow you to savor at-home infusions with all your senses, like quilted coasters that emit sweet scents when placed under a warm mug. And then there are the canisters of aromatic teas and tisane selections, just waiting for you to select them.
Though I'm comfortably settled on my couch with a steaming mug of English Breakfast, a part of me is pining for a tea house right now. Somehow I don't think that just pulling out a little hourglass will do the trick.
Save