... then tea and scones are absolutely delightful!
Raise your cups to an act of winter whimsy: the tea party. In attendance were two children (at heart) and two teddy bears. In the oven, a batch of maple-cinnamon scones. In our cups, well, tea of course - in fact, thee kinds were consumed over the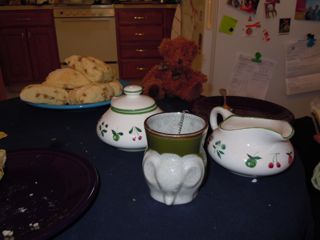 course of the afternoon. I don't recall being one of those tea-party-loving little girls, but here I am, a tea-party-loving woman.
After a cold-but-pleasant January walk, we whipped up some super-tasty scones (the mix had been a holiday gift) and boiled a pot of hot water. To make it even more of an event, we put cream in my grandmother's creamer (usually we pour milk straight from the carton) and drank our tea from fancy-schmancy mugs that look like little elephants. After ensuring that we had photographic evidence, we chowed down. The scones melted in our mouths as the tea warmed us from the inside out. Now that's what I call a relaxing weekend afternoon.
If your tea parties need a jump-start, here are a few ideas that will please kids and adults alike:
Base your menu (whether it's extensive or not) around a colorful theme. A Valentine's tea could feature rooibos tea, scones with strawberry jam, and raspberry thumbprint cookies. Green tea, cucumber sandwiches, and shamrock cookies work for St. Patrick's day. You can even ask guests to wear the appropriate color. (If you're throwing an impromptu at-home "party," go ahead and change - it'll put a smile on your face.)
Try a "T" party - think toast, tomatoes, or tiramisu.
Or go for a "no T" party, where you'll rack your brain to avoid using words with the letter 't' in conversation. ("Could you please pass some more warm beverage?")
Get fancied up. Everything will taste better while you're wearing your pearls and holding a silver spoon.
Relive the royal wedding with elaborate hats (homemade or not) and across-the-pond accents.
Stage a blind taste-test of different types of tea, or play guess-the-tea.
Have each attendee adopt a funny character of his or her own creation. Give yourself an unusual name (Lucinda Catterbottom, Mr. Sledright, Oddball Jones, etc.) and act as outlandishly as your character would. If you have the time, this one just screams out for costumes!
Remember: a tea party is a tea party simply because you say it is. Plan one weeks in advance, or throw one together last-minute. Commemorate a special event or counter rainy-day boredom. Above all, be creative, and enjoy!
Save