Tea rooms gained popularity in the United States at the turn of the 20th century. Tea rooms were the purview of women, staffed by women, run by women, and frequently owned by women. Tea rooms were not merely a means for women to gain financial independence and become players in the economy as business owners, they were a place for of various social classes women to interact without derision or the constraints of her class. NY Times, December 01, 1912.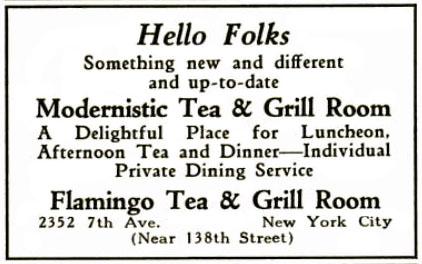 Tea rooms were primarily run by white women for white clientele. Though fewer in number, African American women were also able to take advantage of the zeitgeist and run successful tea room establishments. Excluded from white establishments, African Americans took the tea room and created their own establishments with similar atmosphere. These tea rooms catered to patrons with money, and frequently specified the exclusive nature of the welcome clientele. This is an early example of the growing social mobility of African Americans, even if only within the confines of the segregated society of that era.
Finding the history of these establishments isn't easy, most have closed, but they reflect an important part of our country's history. Jan Whitaker has a more in depth history of African American tea rooms on her blog, Restaurantingthroughhistory.com. It is fascinating to learn about this little known role tea and the tea room played in American culture.
Save