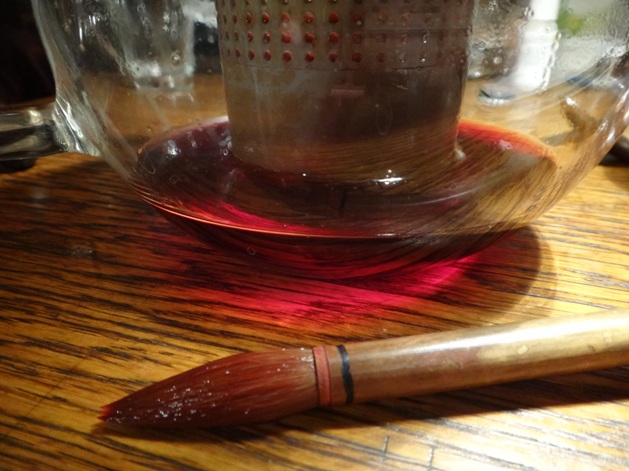 Tea is many a splendored thing! It's not just for drinking, or putting in your plants - what about tea painting? A lot of teas have amazing color, especially when they've steeped for a long time and are highly concentrated. Ever since I first tried it in Mexico last March, as it is a staple tea there, I've liked Hibiscus tea, but for more than just its taste. It makes the most beautiful, alluring, deep, blood red pigment. When I first noticed this I immediately wanted to stain everything with it, and played around with drips on a paper napkin. That being said, I've also dripped it on my pants by accident and that, too, was stained. So it's very powerful. The image to the right is what it looks like steeped for 20 minutes or so.
So today I finally took the time to lay it down in my sketchbook. It's watercolor paper, so it was able to absorb it better than other paper would, but it still took longer to dry than regular watercolor. I'd be interested to see variations of it less and more diluted and how the color would intensify with more layers. Surprisingly, it dried more purple than red, but I still think the color is beautiful. Here's how it turned out just a little bit wet still: (below)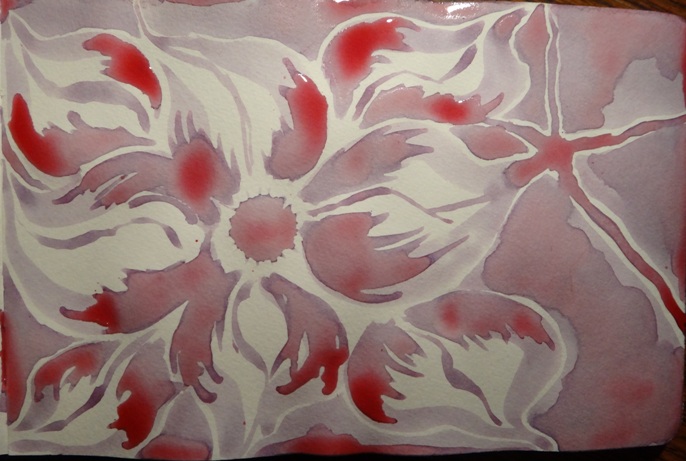 I will conduct further experimental endeavors in time!
Save
Save