T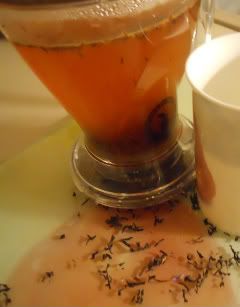 ea lovers, rejoice: you can use tea to give your locks extra luster this winter!
How, you ask? Well, the tannins found in tea can thicken the shaft of the hair, which of course makes hair appear thicker. Although there's no science to back it up, I have also found that my hair appears much smoother following what I call a 'tea rinse.'
The method couldn't be simpler.
Brew three to four cups of your favorite green, white or black tea. (I have not tried herbal teas so while it's possible they may work as well, I can't vouch for it!)
Cool the tea until it's at least room temperature, if not a little colder.
Shampoo, condition, and rinse hair as usual. Allow hair to dry: it doesn't have to be totally dry, just not dripping wet!
Pour tea into a large bowl and flip your hair into it, being sure to get the tea all the way to your roots. Gently flip your hair back up and wrap it in a towel; allow it to sit for thirty minutes or so (the longer the better in my experience) and then rinse it out. Rinse with cold water for the shiniest results.
As a bonus, if you're like me and sometimes brew more tea than you can drink, you can always use the leftovers to treat your hair!
Save