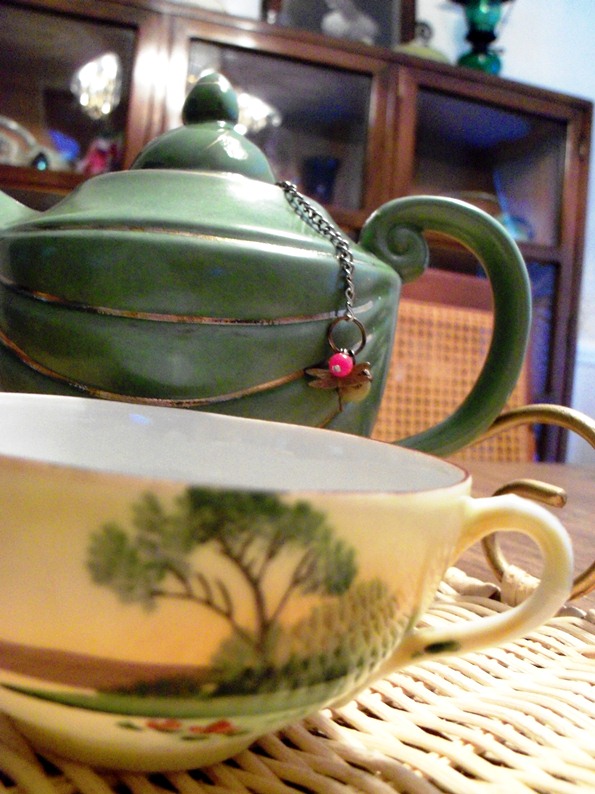 Have you gone to a tea room lately? Of the many that I've been to or researched, they are all either English or Asian style. There's absolutely nothing wrong with that... but is this how you enjoy your tea? Do you always have your tea in a china cup and saucer... or from an Asian pot in a tea bowl? Or... do you have a favorite mug? I have many pots and many cups, mostly without saucers and many mugs (I use a mug in the mornings)... I tend to marry pots I like with cups and creamer/sugar sets that don't match the pot perfectly, to make my own tea sets.
My favorite, or at least the one I use every night, is a green Alladin pot with gold trim that I've put together with my favorite orphaned cup (a vintage hand painted Nippon), a brass compote (for my Stevia) and a beaded stainless steel mesh tea ball.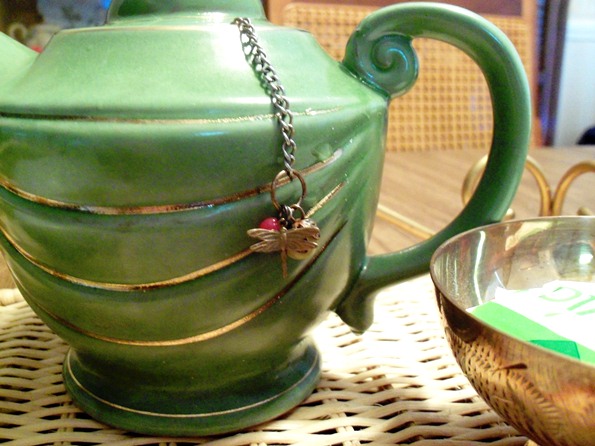 I have a dream of opening my own tea room... but it will be different! It will have more of a bohemian flare! I'll have many different tea sets that I've put together from teawares I've found in thrift stores and antique shops... and even from my own hutch!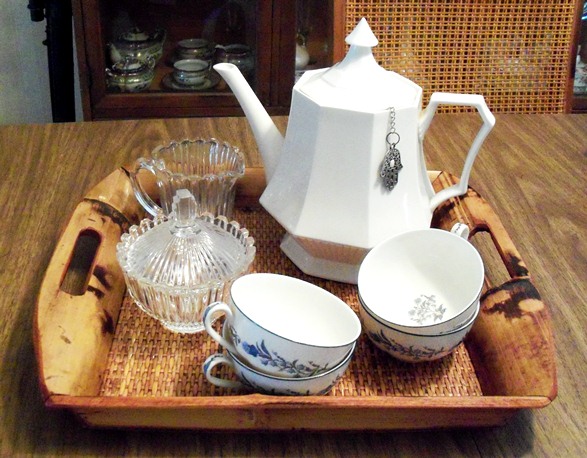 This one I call my "Worldly Set" as it seems to come from many different cultures... Asian basket, Middle Eastern charm on the teaball, decidely American cups and Depression Glass creamer and sugar and a huge pot that echos of Europe!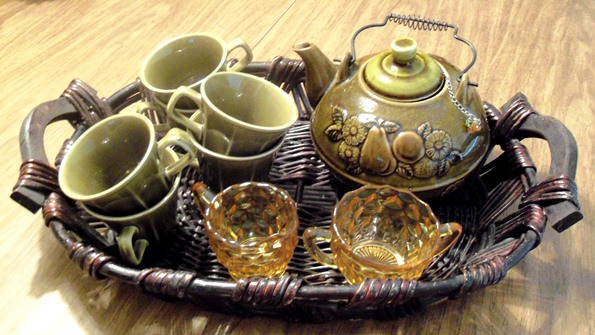 This one I call my "Hippie Set" as joining the vintage 1970s raised fruit avocado green teapot with vintage avocado green cups just screams 70s! The basket and the amber Cubist pattern Depression Glass creamer and sugar match the pot very well... and the teaball is beaded with green and amber glass hippie flowers!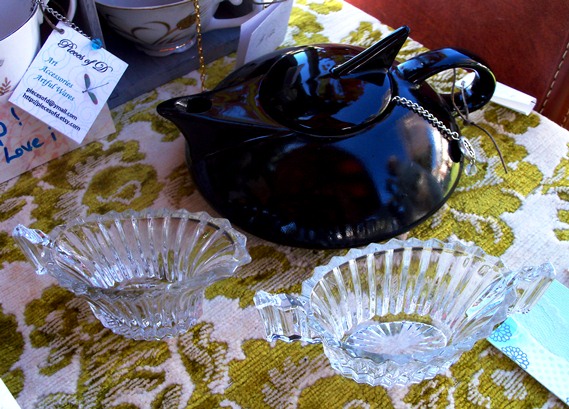 Here's a cute set that I recently sold... It consists of a really cool, small, black Mid-century Modern pot with a small Depression Glass creamer and sugar. Its teaball is adorned with a pewter bead with a moon on one side and a sun on the other and an irridescent crystal.
I love putting tea sets together and if I ever get to have my tea room... I'll have the coolest one of a kind tea sets around! You all be sure to keep your eye out for it and come in for a cuppa... A girl can dream can't she?
Save