It's safe to say that almost everyone is trying to save as much money as possible in this economy. But being frugal doesn't mean anyone should go without entirely!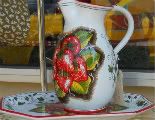 There are plenty of nontraditional places you may not expect to find teaware that are actually full of inexpensive, unique pieces.
1. eBay. And you thought it was just for textbooks and electronics! But there are always a couple of dozen high-quality sets listed there.
2. TJMaxx and Marshall's. These retail outlets are mostly known for their high fashion available at low prices, but skirt around the corners of these stores and you will find homegoods, including classy, high-end teaware for low-end prices.
3. Your local farmer's market. These pieces are always unique because they are handcrafted, usually by local artists. In addition to getting a great deal on a one-of-a-kind piece, you are supporting local talent!
4. Yard, garage, and estate sales. Not every yard or garage sale will boast a piece of teaware, but when they do you can be certain you are getting a great deal!
I think that having teaware you enjoy looking at is one of the most important factors that will help you enjoy the process of drinking your tea, and even in this economy, it is still possible to expand your collection of teaware.
Save