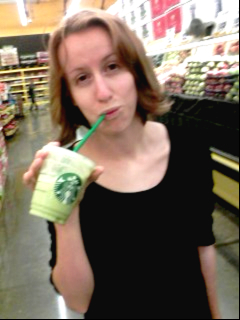 Not many of my friends drink tea. I think it must be a generational thing - we were brought up to eat cereal in the morning and dash out the door. Who has time for tea? Well, to help introduce your friends to the world of healthy and delicious tea, there are a few things I have learned to do.
1) Fun Coffee Shop Options: When you and your friend are in a Starbuck's (or Peet's, etc), have them try a hot Chai Tea Latte. This is a personal favorite of mine, especially on a cold day, because it's so warm and spicy. On a hot day, Green Tea Frappuccinos (AKA Freddos), or Iced Green Tea Lemonades are extremely refreshing, and lighter than an iced coffee. Even though these beverages aren't very healthy, at least your friend will get a taste of the delicious potentials of tea.
2) Tea at Work: Many of us have access to a microwave at our jobs. Microwave + water + mug + tea leaves = hot tea in minutes! It's so simple, what's to stop you from bringing an extra mug and extra tea leaves for your co-worker to share? In a small store with a slow pace, you can expose them to all your favorite teas during your downtime.
3) Iced Tea: Who can resist iced tea with lemon? It's always tasty, especially if it's homemade. Any party you are invited to - bring some iced tea in a pitcher and witness what a hit it is. It's such an easy drink to make in bulk, I just keep a container of cold, lightly sweetened tea in my refrigerator and invite my roommates to take as much as they like.
4) Pearl Drinks: Another fun way to drink tea is via Pearl Milk Tea, AKA Bubble Tea, AKA Boba Milk Tea. Originally from Taiwan, this drink is a hit in Asia, and has since spread internationally. Pearl Tea has milk, sugar, ice and chewy tapioca balls, "pearls", at the bottom. I enjoy the tapioca balls because they deter my urge to drink most of the tea in one sip. They also offer a multitude of flavors and different options instead of the tapioca balls.
And remember that small steps towards a goal are better than none at all! Hardly anyone becomes a die-hard tea drinker overnight. But, for instance, one exposure to green tea at work, might lead to several Green Tea Frappuccinos, which might lead to a whole obsession and the more sophisticated consumption of green tea!
Save