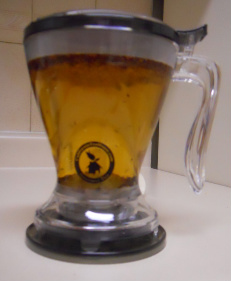 Thanks to my good fortune in landing my first magazine job, I received an opportunity to review a truly unique and wonderful piece of tea equipment last week: California Tea House's Sleek Steep Teapot.
Sleek certainly is the word for it: It's a beautiful, elegant piece that matches any dining room or kitchen set. And how about ease of use, you wonder? It's incredibly simple: Add your loose leaf tea, add your water, let it steep for the recommended amount of time, and then the magic happens. Lift the two-cup teapot, place it over your mug or cup, and just lightly press a spot on the underside of the teapot: the tea strains itself right into your mug!
Clean-up has never been easier, either. This teapot is dishwasher safe, but it's remarkably easy to clean by hand, too, if you want to re-use it immediately, like I did!
The California Tea House Sleek Steep Teapot would be a wonderful gift for a tea aficionado, or even for a tea newbie who has never tried loose leaf tea before! Christmas is coming, so be sure to put this item on your wishlist!
Check out this video on how to use the Sleek Steep tea infuser:
{youtube}CVjD51mrDlo|480|360|1{/youtube}
Save