I can remember the first time I had Thai iced tea. I was at a little mom and pop Thai place and was feeling like some tea. I went ahead and ordered a large iced tea figuring it would just be black tea with a bit of sweetener in it. When they brought it out, the first thing I thought was,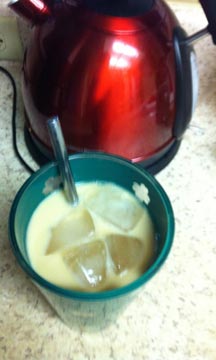 "This is huge!" because they had served me an Octoberfest stein of tea. (For those unfamiliar with Octoberfest, they have very big mugs.) The second thing I noticed was that the tea had some sort of creme or milk in it because the tea was a light brown instead of the usual black. I decided I was paying for it, so I may as well give it a try, and it was amazing. I have gone back to that Thai place just because I wanted the Thai iced tea.
If you haven't tried Thai iced tea you're in luck. I have a recipe to share, and it's easy to make!
Ingredients
6 C Vanilla Creme Earl Grey - black tea
star anise, ground tamarind, cardamom and/or other spices, to taste (optional)
1/2 C sugar
1/2 C sweetened condensed milk
1 C evaporated milk
Directions:
Make the tea. While you steep it, you'll want to add any spices you'd like to add.
While the tea is still hot, stir in sugar until dissolved, then stir in condensed milk.
Allow tea mixture to cool to room temperature or colder.
Fill tall iced tea glasses with ice, and pour in tea mixture until glasses are roughly 3/4 full.
Top off glasses with evaporated milk.
Enjoy!
Notes:
-Though any black tea will work, I have found using Earl Grey tea to be the best for this recipe. Many kinds of Earl Grey already have spices mixed in. For an extra creamy taste, try the Vanilla Creme Earl Grey tea available here at californiateahouse.com
-Thai iced tea goes well with spicy foods. The milk will help neutralize the spicy oils so you aren't left with a burning feeling after you eat.
Save