Does tea bring you and your friends or loved ones together? Do you have any special places you like to go, or make teatime an event?
I do. I love to call up my friends and plan an evening at a local hookah parlor where they also have a wide selection of organic loose-leaf teas. I know smoking tobacco is not good for you, but we see no harm in sharing one hookah once in a while.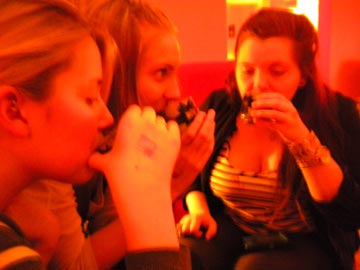 It is really the conversation that brings us back time after time. It is weird how friends grow apart, and the diverse paths that life takes you on. Sometimes it is very needed to have a "thing" that your group can agree on to do every so often.
I think teatime is a great centerpiece that allows easy conversation and connections to be made. Whether it is about getting to know a new person or, like me, reconnecting with people who are already so important to your life, it is a much-needed pastime.
The picture is of my friends Meghan, Clare and I. While we all live in the same city, we have different aspirations and goals that will ultimately lead us to different corners of the Earth. These girls made high school bearable, and have now supported by decisions halfway through college, I can't imagine going through the tribulations of life without them!
I am very grateful for these memories, and the relaxing qualities of tea induced conversations.
Save