Ingredients:
1/4 cup finely diced carrots
1/4 cup fresh or frozen green peas or thinly sliced snow peas
2 tablespoons finely diced celery
1 cup water
1 ounce enoki mushroom stems trimmed to 1 inch from the head
8 ounces cooked chicken breast, diced (about 2 cups)
Salt to taste
Freshly ground white pepper to taste
4 cups chicken stock
2 tablespoons loose-leaf jasmine tea leaves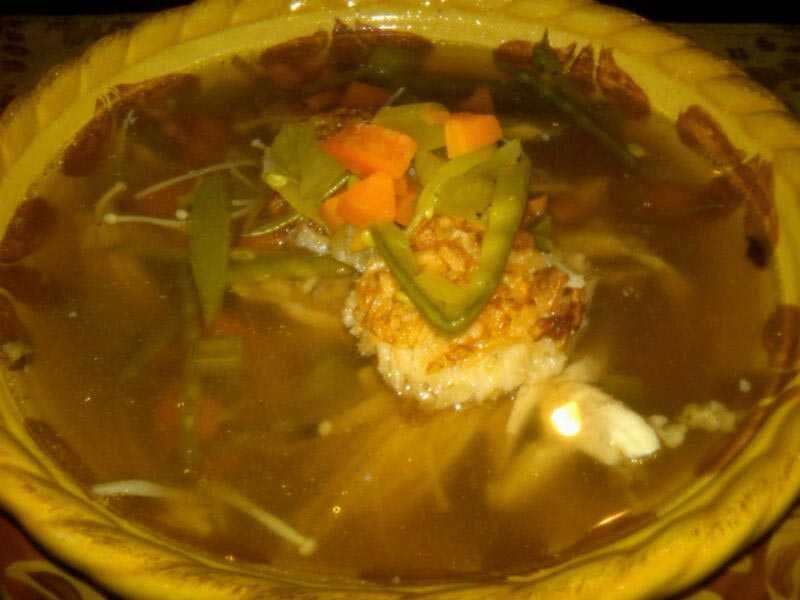 1 cup cooked short-grained rice
1 tablespoon vegetable oil
Directions:
In a small saucepan, combine the carrots, peas and celery. Add the water and bring to a boil over high heat. Lower heat to maintain a simmer and cook until vegetables are tender, about 20 minutes. Drain.
Heat the chicken stock in a medium saucepan until just steaming. Put the tea leaves in a medium bowl, pour over the chicken stock and steep, covered, for 2 minutes. Strain, discarding the leaves and returning the stock to the pan. Keep warm over low heat.
Take 1/4 cup of rice at a time and squeeze to form 4 patties, each about 2 inches in diameter. Heat the oil in a large nonstick skillet over medium-high heat. When the oil is hot, add the 4 patties and sear on both sides until golden brown. Remove and drain on a paper towel.
To serve, divide the hot stock among 4 bowls. Divide the chicken and enoki mushrooms among the 4 bowls. Top each bowl with a rice patty, and divide the vegetable mix and place on top of each rice patty. Serve immediately.
Impression:
What a delightful and original way to make a soothing chicken soup! The jasmine tea is not overbearing at all, but rather makes an aromatically colored broth. I've never cooked with enoki mushrooms which look like a thinner version of moon jellies and have a stringy texture that add a nice flavor. Even though I could not find fresh ones, I used a canned version that seemed to fit the bill. The rice patties were my favorite, a bite of its crispy exterior complements the warm liquid swishing in your mouth. More importantly, this recipe was easy to make. It definitely deserves an A. Can't wait to try this again.
Save